March 18th
See the full album here http://www.flickr.com/photos/59759459@N08/sets/72157626187452593/
March 9th
Skistep Episode 2 : Colin Vaykovich
Skistep Ep.2 Colin Vaykovich from Austin Wendenburg on Vimeo. Skistep Episode #2. www.skistep.tumblr.com Song: London 2 New York - Soft Wasp FREE DOWNLOAD http://soundcloud.com/click-clone/london-2-new-york
Skistep Episode 1 : Tucker Visser
Be sure to watch in Hd on Vimeo! Skistep Ep.1 Tucker Visser The RMU/First Drop Entry from Austin Wendenburg on Vimeo. The long overdue first episode of Skistep. Tucker Visser's Entry into the RMU/First Drop contest on Newschoolers.com. This video was shot in the last two weeks.
Onwards.
Updates and edits haven't been as frequent as I had hoped for this project. This has mainly been due to bad luck, smashed cameras, trouble with ski patrol and being able to ride the mountain. I am hovever happy to say that things are looking up. Smashed Camera Now that the VX is finished i've finally upgraded to HD and footy is looking crisp. Tucker Visser is in the finals for the...
Colin Vaykovich Weekend Warrior
Help out Colin and go like his video on facebook! Video with the most likes by Friday gets a gopro! Like it here! http://www.facebook.com/video/video.php?v=10150138379466416&oid=7169192446&comments
Moe Watts! DNB Mix
Moe Watts bringing you some drum and bass madness! packed full of some of the latests bangers! Don't be shy comment and tell him what you think! Dnb mix by moe watts
Monday Mix Moe Watts
Another banger mix coming from Moe Watts! Check it out and don't forget to download! Monday mix by moe watts http://soundcloud.com/moe-watts Been busy on the hill lately and been stacking footage, its been a long wait but look forward to an edit coming out real soon! Austin
combination D
Here's a mix put together by our bass loving friend Stu. Seamless mixing and high grade tunes throughout. Follow him on Soundcloud and let him know what you think! http://soundcloud.com/combination-d Don't forget to download! Wav quality on this one! Solstice 2010 at the igloo by combination D
Dubstep Made Me Do It
This song makes me think of what will happen when you take jelly doughnuts and put them in your sub, messy. Jakes - Warface (HULKS Jelly Doughnut VIP) by The CLAW This song is just dope, so listen to it. D-jahsta - Reality by D-jahsta Bmurph out! ……. ….. .. . NO FUCK in WAY, NEWSPLASH DUBSTEP UPDATE YOU SLUTS THIS MONSTER WILL EAT YOUR SOUL 2 STEP out! Check...
Liquid Stranger Mechanoid Meltdown Promo Mix
Out Nov 29th on Rottun recordings! Unreal production… Song at 5:30 is my favorite I think Liquid Stranger - Mechanoid Meltdown Promo Mix by liquid stranger Pz, Austin
Watch
After receiving a foot of snow overnight we went out to film urban in Whistler for the first time. We found a bunch of dope spots and have some cool ideas in the works. Didn't get to much time to sesh yesterday (kicked out, then it just got to late) but we're gonna go back and finish everything off. Here's a little tease of our first day out. Austin
Power Has Been Restored.
Finally got some new beats going up. In fact I got a 35 minute mix done by myself for all of you. This is my first one, ignore the few bumpy sections and criticism welcome. Ride to this! COVER ALL BASS SIZ MIX by Skistep Tracklist coming soon. I'l throw up some more of my findings tonight… hope everyone is having a good early season! Austin
bamboozle
I know. It's 1:40AM. I heard today that North Korea started fighting South Korea.  What goes through Kim-Jong-Il's mind…?  I'm not sure I can answer that.  What I do know is he is lacking dubstep.  Think about it.  all i conclude is Kim-Womp-Il. Kim-Womp-Il: Peace. Jroc 
FUCK
I suck at updating blogs. I will post a bountiful of songs tomorrow. Zoltan said that chickens do have large talons this is confirmed. Whistler has so many hot chicks. THANK GOD. now all I need is to find a job and this season is set.
Destructive Download Monday
Not that every Monday will be destructive…but this morning that's how I was feeling for a change. Enjoy the downloads! Highly Recommended Phat!droid by AUDIORABBIT Chase & Status - Hypest Hype ft Tempa T by Dubjunk waterror - FC(WIP) by Dieselenwater RAGE! Headhertz Essential Mix Nov 2010..Drum & Bass/Dubstep/Drumstep by headhertz bOFUm - MiniMix (Fall...
Styte Soundcloud Download
Just saw this, it's kinda really cool. Bush - glycerine (STYTE RMX) by DJ STYTE Austin
Symbiz and Cheetah Video Contest
Whats up guys, check out this little short we did for an energy drink contest. Watch in 720P for maximum sound! That wonderful sound accompanying the video is Symbiz! Real diversity in all these guy's songs. All very different but with the same top notch producing and beats that just have to get you moving. "SYMBIZ is a Band/Soundsystem run by the two korean-german brothers...
Snow = Skiing →
Subvibe - Free Download!
I stumbled upon Subvibe about a month ago. I heard "Lighten up" which is described as "trancestep" and was thrown away by my subs on the drop, long intro wait it out! Their newest dnb tune "Darkhearted" recently re captured my attention in them and is one of the catchiest dnb tune's I've ever heard. Just pure dark bass. This one comes...
7 tags
FREE DOWNLOADS
Thought it was about time we get some free tunes dropped in here! First of all we have a man by the name of Soft Wasp, from Carl Holt, Manchester, Britain. Just discovered him recently but with an impressive 157 tracks uploaded to soundcloud (all which seem to be free aswell!) its a pleasant surprise. Definitely some quality sounds and nice bass, some REAL dub for all to enjoy! SOFT WASP...
10 tags
Watch
Hunter Visser's 2009/2010 Season. Wish we could have got to film more but he still absolutely killed it! Song is Catina Song - Tin Can Telephone Remix. Subvert opened up his set at Shambhala this year with that one. You can download his live set here : http://www.deadbeatdigital.com/blog/music/subvert_live_at_shambhala_2010.mp3
Watch
cottonmouth pretty sick tune kinda different enjoy  grandpas revenge cole
Watch
Chris Jones' entry in the city of Penticton's Reimagine Art Festival. Song = Ghetto Blasta by Cheshire. Not released but you can check out this and his other tunes here www.soundcloud.com/cheshire
Watch
"If a music you looking for…" P-ERA & FJH's official rmx of Dreadsquad & Ward21's - 'Jump & Skip'  Absolutely amazing tune, reggae vibes. No downloads in this post but future music posts will have some. If you like you can support the artists and buy the track here.  http://www.junodownload.com/products/jump-skip/1647844-02/ Pz, Austin
News, and some edits.
Winter is approaching. As seen fit by myself and the people that surround me throughout everyday life, the decision has been made to move to Whistler for the season. The following months will include partying, skiing, cinematography, and a level of bass never seen or heard before from our followers, aswell as much more frequent postings under the new blog name SKISTEP. Also new content such as...
4 tags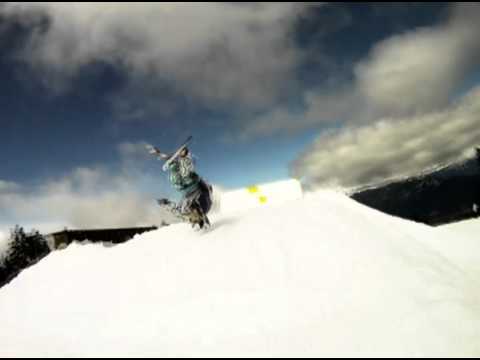 Watch
Tucker Visser 2009.2010
Watch
Joey Spencer, killing it. Watch out for this guy in the future.
Watch
Watch
Those guys down at Salomon wanted some video of their riders. Enjoy.
Watch
TA DA
Postponed
Premiere is postponed until further notice. sorry.
Watch
PREMIERE DATES November 6th at 7:00 pm in the Pen High common area on the big screen! Come check out and support our first 20 minute ski film. Admission is 5 dollars at the door. Invite your friends! Join the facebook event here: http://www.facebook.com/event.php?eid=157658341434&ref=nf
Update.
The movie is almost done. You don't even know how stoked I am to premiere. Anyway I wont give too much away but we had a gnar crash at the waterfall and the cliff jumping seggy is looking ballin in my opinion. Whens the Premiere? Well I have no clue, see since we are so low budget I'm having trouble finding a place that wont cost me hundreds to rent for two hours or have to buy a...
Watch
Yeah when i said the edit was dropping early next week…I forgot to mention my weeks start on Sundays. wait. they start the sunday after the sunday your week starts.
Water Ramps.
Last weekend I went water ramping with Joey and Hunter. Both of them have some sick new tricks that they've been throwing down. Keep posted for an edit soon.
NOPE Saturday!
Change of plans since the last post. Waterfall film sesh will be tomorow since it is supposed to rain on sunday. Be there around 11:45 jumping at 12. I work at 3 so we have to be done by around 2:30.
Waterfall Shoot = Sunday!
Sunday the 7th we are having the first waterfall cliff jumping sesh of the summer. Wetsuits, Camera's, Dollies. Want a shot at being in the movie but missed out on the ski season? Huck your shit off this thing and maybe we'll throw you in. See you there.
Release Dates, Mates?
Alright so the movie will be released next October. Yes that sucks but hey this way we'll have time to make it perfect and even get some other stuff crammed in. There are going to be a couple whistler glacier trips in the summer and it looks like the movie is gonna be featuring a cliff jumping segment now, we might throw in some skating and biking. Heck me and joey and some kids are...
Removable Harddrives
are the fucking devil. I nearly had a heart attack this morning when the one with all the footage for the movie and over 10000 songs wouldnt start. i got it spinning now and im taking all the footage off but damn this sucks. for a good hour i thought the movie was off haha.
WHISTLER
YUP! plans are in the works Joey, Max, Phil and myself are going to go to whistler for 2 full days of getting some last few shots for the movie. Joey is going to be bringing his doubles to snow hopefully. and since my injury is better im hoping to be able to put together a short segment of myself for the movie as well as max. Gonna be a sick trip. Just impossible finding a place to stay since...
Watch
Teaser Time! Project Fuck Shit up is a free ski/snowboard movie about our 08/09 season.  Featuring Tucker and Hunter Visser, Joey Spencer, Josh Franks and Colin Vaykovich.  Also featuring the riding of Max Tougas, Chris Thibodeu, Tommy Milligan, Mac Ecclestone, Thomas Pool, Matt Margetts, Evan Peatt, Stu Watts and Fred Smith. Oh and welcome our new name! Making It. Productions
teasers are stupid anyway.
if any of my friends are even watching this blog any wondering where our teaser is. Due to events beyond my control and because high school girls need to create their weekly dose of drama and attention seeking I have not been able to work on the teaser the last two days. I will try to finish today and have it up later tonight but no guarantees. Tomorow for sure.
start blog.
Champagne on Broadway Productions will now be posting updates here. Everything from skiing to skating to cliff jumping to anything we feel like expressing in a video format. One thing though for the people who know us and will soon be following this page, we soon will no longer be champagne on broadway productions and are in the process of thinking up a new name. Our free ski movie Project...